3rd Annual 5K Run-Walk for Affordable Housing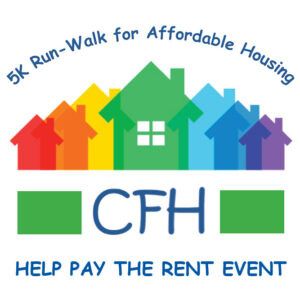 The ONLY CFH Fundraising Event in 2020
So Please Give Generously!
Proceeds Will Provide Much Needed Assistance to
Our Neighbors Who Need It – Now More Than Ever!
Founded by Father Gerard Creedon and a group of Catholic parishioners, CFH has worked more than four decades to provide sustainable affordable housing, helping individuals and families along a path of self-sufficiency. Learn more about our work, including our rescue and rehab of East End Mobile Home Park, at cfhva.org.
The pandemic has made the need for our help greater than ever – and finding the resources has been more challenging than ever. There will be no 2020 CFH Gala, and this will be our only fundraising event this year. Your participation has never mattered more! So please enjoy a lovely run or walk on the path of your choosing between November 14 and November 22 and help us help our neighbors stay in their homes and benefit from our life-changing programs!
HOW TO PARTICIPATE - Registration Deadline 11-11-20
1. Register by November 11 – and chart a course for yourself.
Adults $39 • 16 and under $25
Register for the 2020 Help Pay the Rent Event here. Determine the 5k (3.1-mile) course you'd like to follow, complete it any time between November 14 and 22, and post your results. Race packets will be mailed November 9-12.
4 ways to measure your route:
1. Use a route mapping website – such as GMap Pedometer or Map My Run. They use Google Maps to help you plot out a route.
2. Try an app like RunKeeper or Runmeter which have GPS capabilities to measure your route.
3. With a bicycle – if you have an odometer, set it at zero and ride along the route.
4. Use your treadmill.
2. Spread the word – and post about the CFH Help Pay the Rent Event on your social media!
Let your friends and family know you're participating and encourage as many people as possible to register also.
3. Host a Facebook fundraiser to support this event!
We'll be giving prizes to you who go above and beyond in helping us raise funds to meet this need!
1. Search "fundraisers" using the Facebook search bar.
2. Click the arrow on the right side of the box.
3. Click "select charity."
4. Search for "CFH, Inc." and click on "Catholics for Housing, Inc." in Dumfries, VA.
5. Set your fundraising goal and confirm an end date of November 22 or later.
6. After clicking "next," create the title 2020 CFH HELP PAY THE RENT EVENT for the campaign and add a personal note and photo if you like.
7. Once you've added your cover photo, click "create" to make your campaign public!
PRIZES FOR:
• Best Fundraiser • Most Participants Signed Up • Most Creative Social Media Post about the Race • Best Race Photo on Social Media • Most Facebook Posts • Most Tweets •
Sponsorship Opportunities
RED SPONSOR     $250
Security Deposit Assistance
Acknowledgement on CFH race page

ORANGE SPONSOR     $500
One Month of Senior Rental Assistance
Acknowledgement on CFH race page, race shirts and in packet
1 race registration
Acknowledgement on CFH social media

YELLOW SPONSOR     $1000
One Month of Family Rental Assistance
Acknowledgement on CFH race page, race shirts and in packet
2 race registrations
Acknowledgement in CFH social media
 GREEN SPONSOR     $1500
Three Months of Senior Rental Assistance
Acknowledgement on CFH race page, race shirts and in packet
4 race registrations
Acknowledgement in CFH social media
BLUE SPONSOR     $3000
Three Months of Family Rental Assistance
Banner ad on CFH race page, listing on race shirts and logo in packet
8 race registrations
Minimum of 4 acknowledgements in CFH social media
VIOLET SPONSOR     $6000 
One Year of Senior Rental Assistance or Six Months of Family Rental Assistance
Banner ad on CFH home page, listing on race shirts and logo in packet
10 race registrations
Minimum of 6 acknowledgements in CFH social media
Social media takeover for one day
UNDERWRITER     $10,000
Rental Relief Underwriter
Event logo will include the tag Underwritten by YOU
Banner ad on CFH home page and logo in packet
10 race registrations
Minimum of 6 acknowledgements in CFH social media
Social media takeover for one day
If you can help us help our neighbors who need rental assistance, we need and welcome you!
Please contact George Davies at 703-221-4510 or george@cfhva.org
GREEN SPONSOR
ERPi

YELLOW SPONSORS
Realty with Luis

ORANGE SPONSORS
The Davies Family
The O'Hara Family
Virginia Manufactured and Modular Housing Association
RED SPONSORS
Knights of Columbus – Virginia State Council